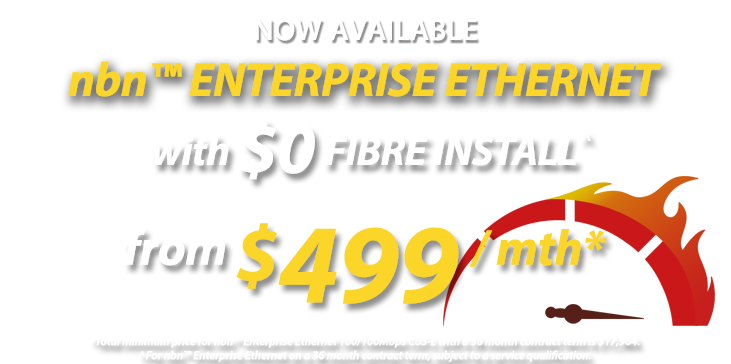 Premium Ethernet is the ultimate connectivity solution with high speeds and priority support. This product is available almost anywhere and typically delivered over Fibre Optic technology – the most resilient technology that is not susceptible to electrical interference like copper based services. Fibre build costs can be integrated into the monthly fees in many cases. This product offers customers an easy upgrade path for the future, often without having to purchase new equipment.
Premium Ethernet Features
Symmetric high speed services up to 10Gbps
Very high levels of reliability including Service Level Agreement
Available nationwide
24x7x365 technical support
nbn™ Enterprise Ethernet
In addition to OntheNet's own fibre and other carriers, Premium Ethernet fibre services can now be delivered via nbn™ Enterprise Ethernet with a CoS-L (low) or "best efforts" class of service.
The following rates are available for a 36 month contract term with nil install cost to the building.
| nbn™ Enterprise Ethernet CoS-L* | Unlimited Data |
| --- | --- |
| 100/100 Mbps | $499/mth |
| 250/250 Mbps | $599/mth |
| 500/500 Mbps | $999/mth |
| 1000/1000 Mbps | $1499/mth |
*Conditions apply. The above pricing is not available in all areas. Additional costs may apply to deliver to the desired end point. Pricing includes GST.
The following links provide broader map views of nbn™ Business Fibre zones where this pricing is available from OntheNet.
Proud & Trusted Supplier to: