VStrata Virtual Private Servers

Fast. Reliable. Scalable.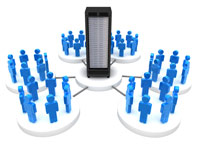 Businesses all over the world want to share content and applications with their staff, partners and/or customers.  Virtual Private Servers are the ideal platform for such a solution.
A Virtual Private Server (VPS) operates just like a physical server but privately shares a portion of a much larger physical resource within a very efficient and flexible system.
Why would any business put such important data on anything but the highest quality Enterprise Grade hardware?
Why would you choose a competitor that does not have offsite backup and high availability included by default?
All VStrata services include:
Default security measures – ACL's.
24×7 monitoring of the physical host
Level 2 Technical Support
Usage statistics and bandwidth utilisation
Optional extras include:
Internet data plans
Choice of operating system and applications
Microsoft Windows updates
Additional storage options
VStrata Managed Firewall
Private Link interface – for customers with OntheNet "Private Links"
Secure Remote Management for VPN access to the virtual server
Consultancy services – to migrate or administer your virtual private server
Choose a base VPS plan and add optional extras such as an Internet service and additional storage when needed.
| Plan Inclusions | | | | | | |
| --- | --- | --- | --- | --- | --- | --- |
| RAM | 2GB | 3GB | 4GB | 6GB | 8GB | 12GB |
| CPU | Single | Dual | Dual | Quad | Quad | Quad |
| Storage | 50GB | 50GB | 50GB | 50GB | 50GB | 50GB |
| Offsite Backup (28 days) | Yes | Yes | Yes | Yes | Yes | Yes |
| High Availability | Yes | Yes | Yes | Yes | Yes | Yes |
| SLA | Yes | Yes | Yes | Yes | Yes | Yes |
| Establishment Fee | $300 | $500 | $500 | $500 | $500 | $500 |
| Monthly Fee | $199 | $289 | $369 | $469 | $669 | $869 |

All VStrata VPS plans have a minimum contract term of 12 months. All pricing includes GST.
Higher spec plans are available upon request. Contact our Sales Team to discuss your requirements.
Storage
Each VPS plans includes 50GB of storage. Additional storage can be obtained upon request either as an additional drive or by growing an existing drive.
Offsite Backup
All servers include offsite data backup to an equally appointed Data Centre and Enterprise grade servers and storage hardware. The second Data Centre is 80kms away to cover Disaster Recovery requirements. All VPS plans include 28 days of backups with a restoration service available at Consultancy rates.
High Availability
This means if the primary physical server supporting your VPS fails unexpectedly your service is automatically re-launched on an alternative physical server within minutes. This feature offers real value for money, compared to having to buy your own duplicate backup server and implement complex syncing and automated failover.
Secure Remote Administration Access
All VStrata VPS include strong security features ensuring secure remote access for server administration (if required). In addition, Access Control Lists are enabled for all VPS services to block common internet threats.
Service Level Agreement
All VStrata services include a comprehensive monthly service level agreement providing up to 60% rebates for non-performance, reinforcing the commitment to ensure a consistently reliable service.
Server Monitoring
OntheNet Systems Administrators monitor the underlying physical hosts 24 hours a day, 365 days a year. In the event of system unavailability being detected your nominated monitoring contacts will be alerted by email or SMS*.
*Excludes Private Links only VPS.
| 100GB SATA | 30GB Fibre Channel | 100GB Fibre Channel |
| --- | --- | --- |
| $50/month | $50/month | $150/month |
Additional storage can be delivered by growing the original drive or by adding a new drive.
Offsite backup is included.
SATA or Fibre Channel?
VStrata uses SATA and Fibre Channel disks in a highly available RAID 5 format on an EMC SAN.  SATA disks are suitable for general services, holding the OS, and for general storage, and will be more than adequate for most users.  Fibre Channel (FC) disks are faster disks with higher data throughput and quicker seek times. These disks may be better suited for high I/O applications such as database (SQL) servers.
Internet data plans are available in set increments as shown below. Higher data plans are available upon request
Internet data is counted inbound to the VPS only (with unmetered outbound data). This is superior to most offerings that count outbound data, or even both ways. The data is counted monthly, from the 1st of each month and the data plan can be easily changed as required.
Note that one internet plan will service multiple virtual servers. You do not need an internet plan for each VPS.

Data Allocation
25GB


$1.80/GB

50GB


$1.60/GB

100GB


$1.50/GB

175GB


$1.43/GB

300GB


$1.33/GB

Monthly Fee
$45
$80
$150
$250
$400
Excess data is $2.00/GB
Includes unmetered outbound data
Internet is delivered at 100Mbps
Higher data plans are available upon request
A broad choice of popular Operating Systems and  application software is available for lease.
Microsoft Options
Windows based software includes automated Windows Updates by default. Customers have the choice of opting out for self management of patches or a fully customised Windows Update service at consultancy rates.
| Operating System | Monthly Fee |
| --- | --- |
| Windows 2008 Server Standard or Enterprise (R2 64-bit) | $25 |
| Windows 2012 Server Standard (R2 64-bit) | $25 |
Application
Establishment Fee
Monthly Fee
Dedicated Microsoft SQL Server Std
For shared data scenarios. eg. Sharepoint, Exchange or custom applications.
Nil
$520
Microsoft SQL Server Web Edition
For IIS Web Application hosting only.
$Nil
$80
Microsoft Exchange
$450
$10/user
Microsoft Sharepoint
$450
$10/user
Microsoft Office
Nil
$27/user
Windows Remote Desktop
Nil
$9/user
Unix Options
Operating System
Monthly Fee
CentOS Linux
Nil
RedHat Linux
Customer must provide own RedHat license
Nil
Debian
Nil
Ubuntu
Nil
Application
Monthly Fee
CPanel
Available with CentOS Linux
$32
CloudLinux
Available with CentOS Linux
$32
Access Control Lists are enabled by default for all VStrata services to block common internet threats. Additional security features, such as those described below, are available upon request.
OntheNet Private Links
Network connectivity via Private Link is also available. OntheNet has been supplying secure private network solutions to numerous corporate clients over many years to ensure data security and privacy. Contact us for more information.
Secure Remote Management
VPN access to the VPS provides secure access for server administration.
VStrata Managed Firewall
A further level of server security is offered in the form of a software based VStrata Managed Firewall with customers able to request basic firewall requirements, subsequently managed for them by our team. Our staff will assist customers in defining an initial security specification and configuration.
Establishment Fee: $100
Monthly Fee: $100
Additional firewall options are available at no extra cost, including:
Intrusion Detection Reports – All incoming internet traffic is inspected for threats.  If a threat is identified it is logged and a weekly report is emailed to the customer.
HTTP Load Balancing – In the case where the customer has multiple webservers behind a firewall the load balancer will evenly distribute traffic across each server.   Should a server become unavailable it will be automatically removed from the pool of servers.
OntheNet has custom built the VStrata VPanel which allows customers to securely login and perform common server health checks and controls. Access to VPanel is included with all VStrata services.
VPanel provides the following information for each VPS:
Current state
Remote startup/reboot/shutdown and suspend controls
Server features and specifications
Server performance statistics with custom charts available over selected periods
Key features and basics health statistics are shown for all virtual servers. The statistics show server uptime and identify obvious issues such as inadequate CPU, memory or storage.
Through VConsult you have access to OntheNet's VMWare certified Engineers. Whether it be a simple VMWare migration or a complex physical to virtual server transition involving multiple servers and operating systems, OntheNet has both the experience and expertise to ensure a successful outcome. Our team can help in all the stages from planning and design to implementation.
VConsult services are most often utilised for:
Physical to virtual server migrations
Server performance analysis
Server cluster & network design
Server security and firewall design and implementation
Hybrid physical and virtual network solution design
VConsult services are available at an hourly rate of $180/hr, in 15 minute increments during office hours. Senior Engineer rates and after hours consultancy rates are available by quotation.
OntheNet use Enterprise grade hardware and software to deliver VStrata services, with a similar platform to that described below used for many years to operate close to a hundred virtual servers in the day to day operation of our own business.
Virtualisation platform:
VMware VSphere including High Availability technology
Host server hardware:
Cisco UCS and HP Dual Hex Core Hosts including diverse path attached storage
Storage:
Network:
Fully redundant, Cisco powered network
Dual uplink switches for each server
Redundant BGP upstream connectivity to multiple providers
Peering at major Australian Internet Exchange Points
Multi Gigabit Ethernet MPLS based backbone
24×7 monitored and managed premium network
Primary Data Centre – OntheNet, Gold Coast, QLD:
Multi Gigabit diverse Fibre path including building lead-ins
Power – Dual Bus N+N Leading brand UPS with integrated 500KVA Building Generator incl dual 32A circuits
Cooling – N+1 Carrier Grade Air con units with cold aisle containment
Security – Video monitored 24×7 restricted access
Secondary Data Centre, Brisbane CBD, QLD:
Fibre connectivity to multiple major backbone providers
System management:
24x7x365 monitoring
VMware Certified Professional (VCP) Engineers & certified Linux and Windows admin staff
Critical Information Summary and Order Form
To order please download and complete the order form. If you have any questions please contact us.