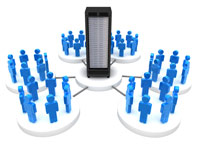 Businesses all over the world want to share content and applications with their staff, partners and/or customers. Virtual Private Servers are the ideal platform for such a solution.
A Virtual Private Server (VPS) operates just like a physical server but privately shares a portion of a much larger physical resource within a very efficient and flexible system.
Why would any business put such important data on anything but the highest quality Enterprise Grade hardware?
Why would you choose a competitor that does not have offsite backup and high availability included by default?
All VStrata services include:
Default security measures – ACL's.
24×7 monitoring of the physical host
Level 2 Technical Support
Usage statistics and bandwidth utilisation
Optional extras include:
Internet data plans
Choice of operating system and applications
Microsoft Windows updates
Additional storage options
VStrata Managed Firewall
Private Link interface – for customers with OntheNet "Private Links"
Secure Remote Management for VPN access to the virtual server
Consultancy services – to migrate or administer your virtual private server
VStrata Virtual Private Servers
Critical Information Summary
To order, please contact us for a quote and an order form.

Critical Information Summary
Proud & Trusted Supplier to: