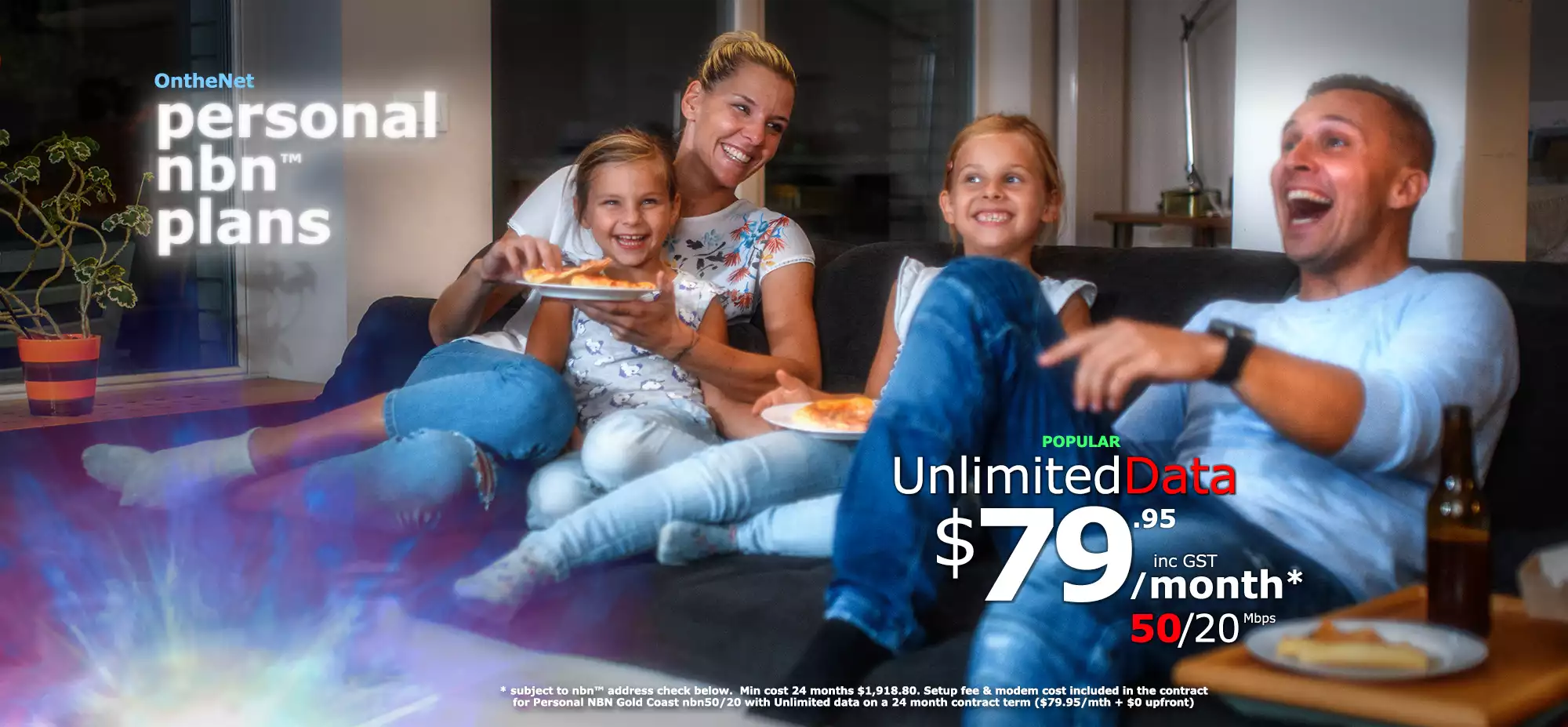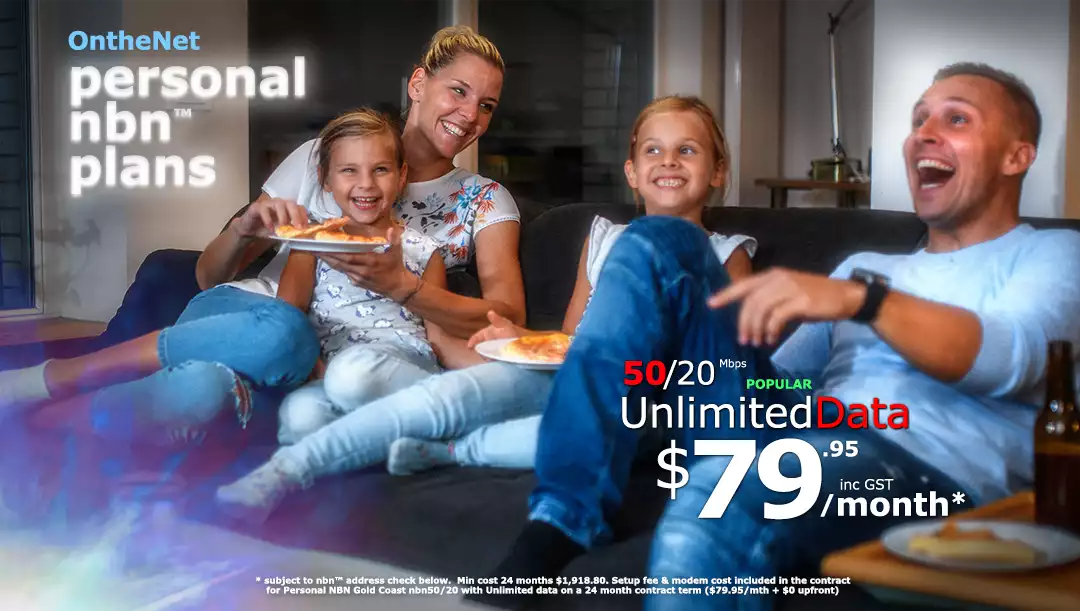 Personal nbn™ Plans
Uptime, Uptime and delivering TRUE 'speeds'*
OntheNet's network and NBNTM speeds are monitored carefully by our engineers, to make sure you get the speeds you signed up for. If you need help with your WiFi settings – give us a call.

Personalised 'we care' Support


Expect the phone to be answered pronto during business hours at OntheNet.  Just

No Parrots here. No scripts – we listen to you.  Call (07) 5553 9222 and you will be speaking to a knowledgeable and friendly Aussie.
100% Australian 25+ years right here on the Gold Coast.
That's right – we have 40 friendly and helpful Aussie staff and network engineers waiting to help you and make sure everything 'works' so you can enjoy the internet at home.
OntheNet – we keep our pencils sharp.
We regularly compare our rates with other 'quality-support-oriented' providers.
* please be sure to read the 'critical information summary' after you have entered your address BELOW, then clicked on the plan box you are interested in purchasing (scroll right to the bottom where you will see a section called 'Your order Summary" appear.). For example you enter your address then select Personal/24 months/no phone/BYO hardware/$79.95/mth Plan.
On The Net are super reliable and technically highly competent. What you pay for, you get. My recent FTTP upgrade was handled very swiftly.
Warwick H.
02:44 29 Jul 22
Highly recommend OntheNet. I was with Telstra before and internet cut out constantly through the day to the point it was easier to hotspot my computer to my phone. This has not

...

happened once with OntheNet and when I have called support OntheNet answer their phone straight away. With other providers I'd be on hold for hours. I would never recommend anyone other than OntheNet. So happy we chose them.

read more
We were with On The Net for three years and were really happy with the service - we are gutted that we have moved to another provider, and as soon as we can we will move our

...

service back. On the Net made the set up process seamless and we had excellent customer service. They provided exactly what was discussed and agreed, and there were no hidden costs.

read more
Outstanding personalised customer service from this great Gold Coast business.Thank you On The Net
Sunwise B.
07:17 03 Feb 22
This is by far the best internet company I have come across. In Australia, you get to speak with someone who totally understands what you are saying. No mucking you around . I

...

am so grateful to have found them and would not hesitate to recommend them to everyone.

read more
We have no internet after downloading updates for our Sony TV. John from On The Nett spent along time helping us to re set our modum. Very appreciative.
Thank you
Prompt connection. Connection stable. Promised speeds consistently delivered. Help line answered promptly here in Australia! Highly recommended.
Customer for over 10 years .. great service, brilliant Tech support. Change to nbn effortless . I can't recommend these guys enough
Always great personal service
First time customer with OntheNet all I can say is thankyou for the most amazing customer service and the super quick connection should have changed companies years ago !!!

...

Thankyou

read more
Brittany Q.
01:15 24 Jun 21
A great local ISP with excellent customer service.
Great local provider, always very helpful.
Jennifer S.
06:50 26 May 21
Been with OntheNet for a while now and they're just awesome! Excellent speeds and great pricing and local customer service. Highly recommended and i let anyone i know looking for

...

a different internet provider to switch to them.

read more
I have been using OntheNet for home and business purposes for some time now.
Their service is amazing, you can actually call and speak to someone if you require technical

...

assistance.
Having a local business providing fast internet and hosting domains is a real bonus.
I highly recommend OntheNet as a service provider.

read more
Amazing local company. Just happy i am on board with On The Net. No more long wait times and poor service from Telstra. Highly recommend.
Proud & Trusted Supplier to: