Private Links uses many broadband technologies to connect multiple sites together via a network based VPN. Each site can select from the available technologies and optimum speed to suit its purpose. This product caters to the need to securely share data and network resources across many sites with unlimited data transfer across the whole network and at a fixed cost per site.
Added benefits include the ability to apply Quality of Service (QoS) for prioritising data classes and also to centralise internet, firewall and content management resources.
Solutions such as remote terminal services (eg. Citrix), offsite data backup, security cameras and Voice over IP (VoIP) are examples of how businesses benefit from this service. Reducing the need for high cost VPN hardware and the lack of variable data costs are significant advantages. The following technologies are all available to construct a Private Links network.
| Technology | Speed Range | Availability |
| --- | --- | --- |
| ADSL2+ | Up to 24/1 Mbps | Australia wide |
| Mid-band Ethernet | From 2 to 80 Mbps | Australia wide |
| Premium Ethernet | From 4 to 1,000 Mbps | Australia wide |
| nbn™ | From 6/1 to 100/40 Mbps | nbn™ rollout map |

Establishment fees and hardware requirements vary with speed and technology.  There is no data volume restriction imposed by OntheNet. No internet connection is provided. A minimum of two services is required.
Important Features
Fixed Cost service – move as much data as you like between multiple sites.
Reduce your hardware cost by having OntheNet provide the security in the network.
Choose from a variety of speeds and technologies to suit each site. Balance your WAN design.
Available nationwide. Private Links is available nationally with only the restrictions of each technology type.
As dispayed in the diagram below there are numerous Private Link options for customers to enhance performance, reduce risk, ease migration and support outsourcing as necessary. These include but are not limited to:
Managed Hardware – OntheNet can supply maanged owned or managed rented hardware.
Head Office Access to Internet – Customers can connect Internet directly to the Head Office or via faster Ethernet to the Internet.
Ethernet Access to Internet – allows far faster Ethernet access direct to the core of the Private Link network instead of Internet being routed via Head Office.
Managed Firewall – Whether customers have a Head Office or Ethernet Internet connection Onthenet can offer a Managed Firewall solution.
Data Centre Colocated Servers to Private Link & Internet – Customers may wish to place their own hardware 9servers or firewall appliance) here.
Virtual Private Server to Private Link & Internet – Customers may wish to operate a Virtual Server here.
QoS – The complete Private Link network can have a "Quality of Service" or QoS feature applied to prioritise different data types. OntheNet has well established profiles for Data or Voice priorities.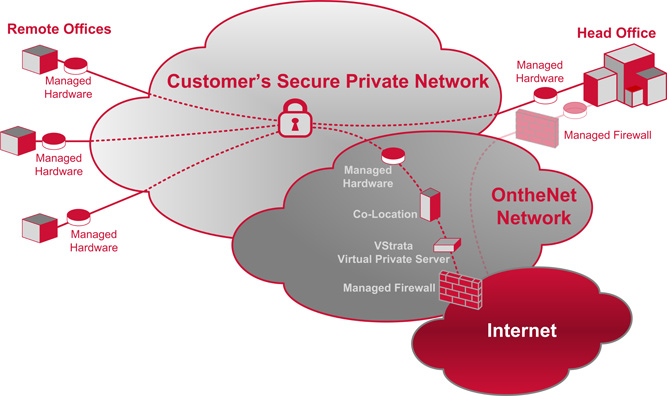 Contact us via corporate@onthenet.com.au or 1300 650 559 for prompt Service Qualifications and pricing. Please provide an existing phone number at each site to help us provide accurate information.
Critical Information Summary
If you have any questions or would like to place an order please contact us via corporate@onthenet.com.au or 1300 650 559.

Critical Information Summary