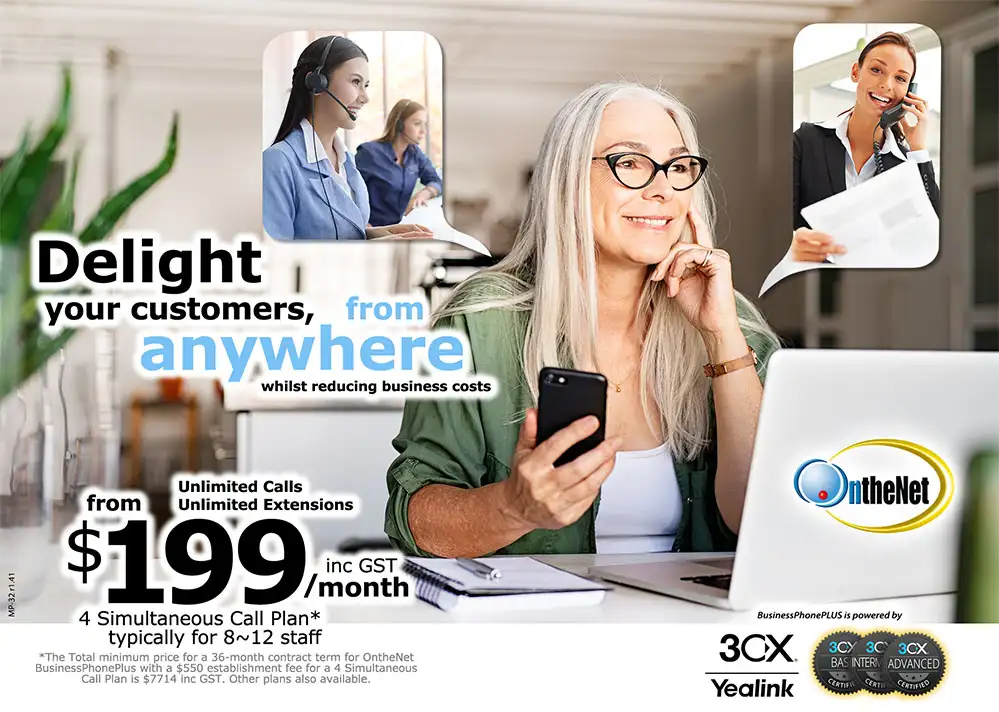 Business Phone PLUS is a premium business phone solution using the internet in combination with 3CX software on Mobiles, Laptops, PCs, Headsets and IP-Desk phones to create a Virtual Office Phone System and connect all your staff anywhere in Australia..
Business Phone PLUS includes:
Unlimited standard calls.
The highly sophisticated 3CX Pro PBX with numerous features.
Hosting of your PBX at OntheNet's Gold Coast Data Centre.
OntheNet's local engineers to help configure your system.
Unlimited extensions and users
Each user can access their extension via most brands of SIP desktop phone, a computer with a headset or mobile using the 3CX app. BYO hardware or order new Yealink hardware through OntheNet.
Unlimited standard calls
No more unexpected bills with all calls to standard Australian landlines & mobiles included.
Next-generation PBX features
Centralise your communications channels, Monitor the Dashboard and Automate your reports.
Easy integrations
With your CRM, web meetings, live chat, SMS and Messenger.
Manage your own PBX 24/7
Log in from anywhere online and update your open hours, messages, extensions and more.
Keep your existing numbers
Port any number across to OntheNet with up to 5 new or ported numbers for free.
OntheNet technical support
Our staff will listen carefully to any issue and work toward a solution.
Simple monthly pricing
All pricing is listed below.

Core PBX
Unlimited Extensions
iOS & Android apps
Receive Voicemail via Email
Intercom / Paging / PA Announcements
Call Parking / Pickup
Busy Lamp Field (BLF)
Real-Time System Status
Voicemail
Voicemail Transcription
Web Conferencing
Polls
PDF Sharing
Screen Sharing
Remote Assistance
Whiteboard
Up to 100 Participants
Call Flow
Call Logging
Click2Call Browser Extension
Click2Talk
Click2Meet
CRM Integration
Call Queues
Call Reports
Call Recording
Real-Time Statistics & Monitoring
Supervisor Agent Status Override
Switchboard
Wallboard
Callback
Call & Queue Reporting
Call Recording Transcription & Search
Barge in / Listen in / Whisper
Night Switch Over
Custom Music/Messages on-hold
Office Productivity
Auto Attendant / Digital Receptionist
Ring Extension & Mobile Simultaneously
Easily provision & manage IP phones
Plug & Play Phone Provisioning
Apps: Windows and Web Client, iOS, Android
Phone Directory
Headset Integration
Microsoft 365 Integration
CRM Integration
Call Query against DB & CRM
Web Conference Dial-In
OntheNet technical support
Contact Centre
Live Chat
Facebook Messaging
SMS
CRM Integration
Chat Reports
Monitor/Whisper
Escalate Chat to Call
Frequently Asked Questions
All Business Phone PLUS plans include Hosting and unlimited calls to Australian local, national and mobile numbers.
The plan chosen determines the maximum number of simultaneous calls (SC) inbound, outbound and internal. Once exceeded a busy tone will be heard.
Additional plans are available, contact OntheNet for more specific information.

Simultaneous Call Plan
Establishment Fee
Monthly Fee (inc GST)
Contract Term
4 SC
$550
$199
36 Month
Contract
8 SC
$349
16 SC
$649
24 SC
POA
$949
32 SC
$1299
48 SC
$1899
$229
High-performance cordless phone with 30 hours talk time and 2.4″ colour screen. Includes base station and handset.
Datasheet
$335
Larger 4.3″ backlit screen, ideal for professionals and managers.
Datasheet
$235
The Yealink WH63 headset works seamlessly with major platforms and integrates natively with Yealink IP phones. Experience Yealink's Super Wideband Technology and easy on-ear controls.
Datasheet
$235
The Yealink WH62 headset is designed to meet various preferences of users. Yealink created this lightweight designed headset with adjustable headband, replaceable ear cushions and two wearing styles to ensure all-day comfort.
Datasheet
$85
The Yealink UH34-M is a USB wired headset featuring an ergonomic design that makes this headset comfortable enough for long conference calls and all-day use. The hand-held controller with LED indicator provides easier access to key call control capabilities, including answer call, end call, reject the call and mute/unmute
Datasheet
Optional Enterprise Edition and PBX Failover
3CX offers an Enterprise Edition supporting these additional features:
MS Teams Integration.
Per user Recording start/stop controls.
Skill based call routing.
Inbuilt Failover and a standby licence.
Call our sales team on 07 5553 9222 to discuss pricing and implementing such features including the option of our off-site 3CX automated failover.
Business Phone PLUS includes unlimited calls to Australian local, national and mobile numbers.
Outbound Calls
Rate

Between OntheNet VoIP Users
Free
Local / National
Free
Mobile
Free
13 / 1300
$0.21 per call
1800
Free
International
Canada (1)
$0.07/min
China (86)
$0.02/min
New Zealand (64)
$0.02/min
United Kingdom (44)
$0.06/min
United States (1)
$0.02/min
Other international rates
from $0.01/min
| Inbound Calls | Rate |
| --- | --- |
| Inbound to 1300 Number | $0.10/min* |
| Inbound to 1800 Number | $0.15/min* |
No flagfall on outbound calls. All timed calls will be charged in per second increments. Contact OntheNet to verify rates for any call types not listed here.
Minimum charge for Inbound 1300 calls is 10c and 15c for Inbound 1800 calls. Inbound call rates only apply to customers with a 1300 or 1800 number hosted by OntheNet. If the 1300/1800 destination number is not hosted by OntheNet additional call charges will apply as per outbound call rates above.
Special Services
Service
Prefix
Rate

Universal International Freephone
0011 800
Free
National Directory Assistance
1223
$0.88 per call
International Directory Assistance
1225
Dial Before You Dig
1100
Time
1194
Weather
1196
Assisted Directory Search
1234
Directory Assistance with Call Connect
12455
Wake Up
12454
Reverse Charge
12550
No flagfall. Contact OntheNet to verify rates for any call types not listed here.
All pricing above includes GST.
Proud & Trusted Supplier to:
Order Forms
To order please download and complete the order form below. If you have any questions please contact our Sales Team.

Critical Information Summary


Order Form 

Modification Form


Delivery Process
Porting Authority Forms

Porting Authority Form (Simple)


Porting Authority Form (Complex)


Porting Authority Form (1300/1800)
Datasheet – Business Phone PLUS

DataSheet (Business Phone PLUS)