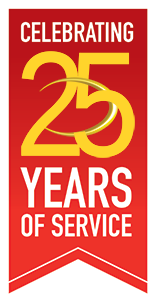 December 2019 marks 25 years since OntheNet established operations on the Gold Coast, 25 years of focus on personal service and support, that so many customers repeatedly tell us is important.
OntheNet still has the original directors since 1995 plus many staff with in excess of 10 and 15 years of service. That experience and stability is one reason our business continues to perform and deliver. Our staff enjoy coming to work and providing a quality product. Yes, our staff do get pay rises as is often recommended!
There have been some great milestones along the way and even this year our network continues to grow interstate and overseas. OntheNet has recently won major new business from interstate customers and our product range has grown, developed and matured to deliver a broader range of business communications products. OntheNet has always worked hard to build and manage our own products in-house as much as possible, bringing great customer benefits such as product flexibility and prompt fault resolution.
The NBN product range and its delivery has been a major challenge in the last 5 years or so and we look forward to completion of the rollout in the near future. We thank customers for their patience while we work to solve problems as they arise. It's not always easy with a government based, startup provider behind the scenes. Ultimately there are many happy OntheNet customers using NBN now, with the large majority having faster speeds than DSL and many businesses spending far less for much more bandwidth.
Thank you to all the people that have helped OntheNet grow from the dial-up days, through the DSL era and now with NBN. We appreciate the many customers and business partners that have contributed to our success. Many customers have become friends and we look forward to continuing those relationships and the good service. Feel free to tell us on social media, or when you call us next, about your memories and experiences with OntheNet. Make sure you tell our youngest staff members too, one of whom was not born when this business started.
For everything internet, trust a local.