Wireless (also known as "WiFi") is a medium of connection that requires no cables and allows several computers to talk to each other using radio transmitters to connect and share information over a digital network. Much like a Radio Station broadcasts FM radio to your car stereo.
The primary advantage to wireless is that it allows users to be completely mobile while not limited to being tethered by a traditional Ethernet (networking) cable.
However, there are variations to this as wireless can be defined into two popular categories:
Fixed Wireless Broadband
Mobile Wireless Broadband
A Fixed Wireless connection is generally a modem and/or router which connects to a fixed non-wireless service such as ADSL, Cable, Satellite or Fibre-based services such as the nbn™.
Fig 1.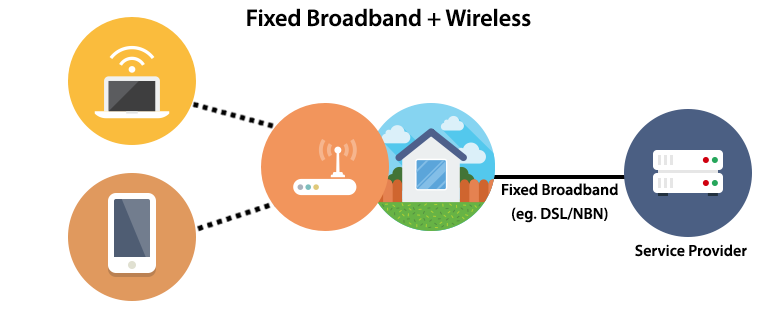 On the other hand, a Mobile Wireless connection typically requires a device such as a Smart Phone, Tablet, or a Mobile Internet Modem containing a SIM card which can provide Internet access to the user/s wherever there is adequate coverage by means of cell tower.
This type of connection is referred to by a few names which you would recognise as 2G, 3G, 4G and LTE.
Fig 2.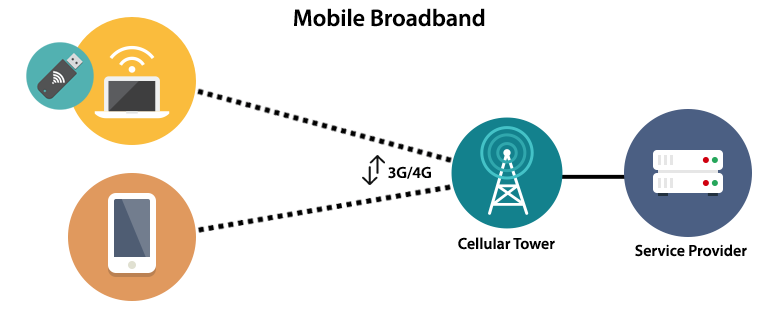 As you can see, each one has their own limitations but ultimately deliver on the concept of mobility.
Fixed Broadband + Wireless
Fixed Broadband + Wireless is perfect for the home, and in addition, large and small businesses operations. By attaching a high-speed service behind a wireless capable modem (see fig.1) you can, in some cases, achieve significantly higher speeds than Mobile Broadband may allow.
Mobility is confined to the premises but, in exchange, there is greater control over the coverage of the wireless as well as the security and setup of the wireless network. Data allowances for fixed broadband services are also significantly higher when compared to the mobile plans offered by the major telcos.
Fixed services are commonly available across the country and come in various flavours with ADSL being the most common. Those who cannot get a fixed service will generally move to a mobile broadband service instead.
Find out what type of fixed broadband service OntheNet can provide.
Mobile Broadband
Mobile Broadband (see fig.2) is excellent for people who lead an active/busy lifestyle and can't be tethered to a desktop, particularly if they are in a metropolitan area. It allows mobility and connectivity whether you are heading to work, going out with friends, or travelling and in most cases requires no additional equipment. Those who live in remote areas where fixed services can be difficult to obtain may be able to take advantage of mobile broadband.
OntheNet does not offer mobile broadband services.
Choosing the right hardware is just as important as choosing the right plan as there are factors that need to be considered before making your purchase.
Can the modem support my fixed service?
ADSL and Cable have been the primary technologies commonly used across Australia. With the national broadband network being built – the hardware requirements have slightly changed and therefore it is important to make sure that the modem is compatible with your current or future fixed-line service. Find out about nbn™ hardware requirements.
If you require advice on device compatibility please contact Technical Support.
Can the modem support my devices?
Many modern modems now come with a number of features which have become standard in the industry. It's important to be sure that your devices (computers, laptops, smartphones and tablets) are compatible with the modem you choose and that it will support the number of devices you wish to connect with.
Common Standard Features:
Four 10/100 Ethernet ports (used for physically connecting devices). Some newer models come with 10/100/1000 Gigabit Ethernet.
Wireless supporting industry standards 802.11 a/b/g/n/ac.
2.4Ghz  wireless transmitter. Newer modems may support Dual-Band technology (multiple wireless networks intended for basic and bandwidth intensive tasks).
Software features: NAT Firewall, MAC and IP filtering, Quality of Service (QoS), parental controls, port forwarding and Voice over IP (VoIP).
While many of these features are quite popular, not every modem is built the same therefore it is strongly suggested to work out your needs and plan ahead to ensure your requirements are met.